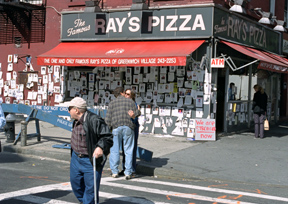 Ray's Pizza
photographed by Bronston Jones
Ray's Pizza, located on 11th Street two blocks from St. Vincent's Hospital, became a popular place where anxious families went for a quick meal as they waited for ambulances to arrive with survivors.
Adjacent streets were barricaded by police to automobiles creating a pedestrian walkway where fliers were posted on lamp posts, mailboxes, buildings, trees and fences.
As the days wore on and no survivors were found the hand written message, 'We Are Stronger Now' became a statement of defiance for New York, and the nation.
copyright 2001, bronston jones, all rights reserved